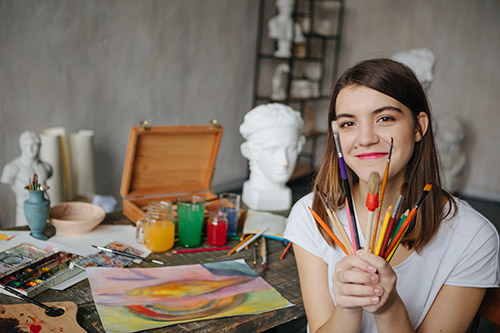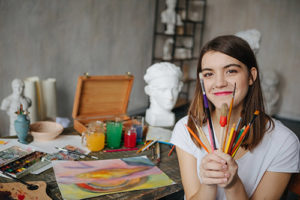 Located in Toquerville, Lava Heights Academy is licensed by the state of Utah as a Residential Treatment Center and is accredited by the Joint Commission.
At Lava Heights Academy, therapists and arts professionals work together with students to help them learn to accept themselves, the ideas of others, and to welcome feedback and praise in a healthy manner.
Comprehensive and therapeutically informed creative arts programs provide unique opportunities for students to create and perform together through interactive music-making, story-creating, visual arts projects, and dance movement.
These art programs also utilize a strengths-based approach to working with individuals where one can explore their own unique talents and skills. No artistic background is necessary.
Experienced and caring specialists promote dialogue between group members and address social skill development, as well as facilitate opportunities to enhance empathy, initiation, and cooperative play. Groups are formed continuously in order to meet the ever-changing needs of each student.
Lava Heights is part of the Sequel Youth & Family Network
Sequel Youth & Family Services is a leading national behavioral health organization founded in 1999 that develops and operates a broad continuum of treatment programs for children, adolescents, adults, and families with severe behavioral health, emotional, and physical challenges. The Sequel Network consists of an extensive spectrum of programs serving a diverse client population struggling with challenging behavioral, addiction, psychiatric, emotional, or conduct disorders, as well as autism and other comorbidities. Our programs are designed to equip those we serve with the clinical and therapeutic services, as well as the tools, motivations, life skills, and education necessary to lead successful lives and reach their full potential. Call 435.635.0300 today for more information.